Direct Deposit
Your time is valuable. With Direct Deposit, your paycheck is in your account no matter where you are. Your paycheck, Social Security, pension, or retirement check is deposited directly into your account whether you are sick, on vacation, or just too busy to stand in line.
---
On-Demand Posting
We're giving you even more control over your money with On-Demand Posting! Get your pending deposits posted to your account days in advance with a few simple clicks.
How it works:
While you're logged into your account online or using the mobile app, you will receive a notification for eligible pending deposits, similar to the one below:

Click the "Review" button to proceed to the next step. From there, you can review the transaction and click "Post Now" if you would like to proceed.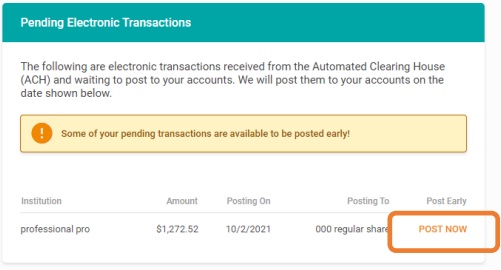 In the final step, you will be able to review any applicable fees, then click "Accept Fees & Post" to finalize your transaction and post your deposit to your account. (View our Fee Schedule here.)
---
Payroll Deduction
Make savings a habit by saving part of each paycheck automatically with Payroll Deduction. You can use payroll deduction to add to your savings account or save for the holidays.
With Direct Deposit, your whole paycheck is automatically deposited into your savings or checking account. With payroll deduction, only a part of your paycheck is deposited into your savings or checking account. The payroll deduction may be only $10.00 per pay period or as much as almost all of your paycheck.
Stop by any of our locations or call us today for more information!
Go to main navigation